Our history
4 generations and more than 100 years of experience

1915
The beginning
At Rendebanen 9 in Kolding, Holger Thomsen started Thomsens Cykelforretning, a craft business in the heart of Kolding. A business that specialized itself in repairing bicycles and bicycle tires.
Around this time, when the car made its entrance in Denmark, the company soon began focusing on selling and repairing car tires.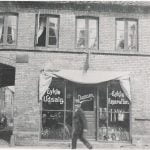 1943
New buildings
Despite tough times and severe lack of commodities, in 1938, Marinus Thomsen is appointed as 2. Generation in the company. When the facilities in the heart of Kolding is expropriated in 1943, the company – now called Sydjysk Vulkanisering – moves to newly build facilities in Sydbanegade.
In 1947, manufacturing of molded technical rubber begins.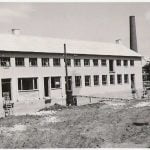 1975
The end of an era
In 1975, manufacturing of tire treads stops, and the company is expropriated from their facilities in Sydbanegade. Under the name Sydjysk Vulkanisering, Kolding's biggest and most modern tire center at the time is constructed at Mosevej 1.
It is an event that echoes throughout local media. The company's industrial department is developed continuously and the demand for this type of products increases.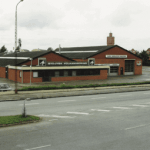 2005
New name
By hiring Christian Thomsen in 1991 and Peter Thomsen in 2002, three generations of the Thomsen family are now active parts of the family business.
The company has changed its name to Dansk Gummi Industri A/S and now exclusively deals in manufacturing industrial rubber. In 2005, a new and modern factory is introduced at Profilvej 18.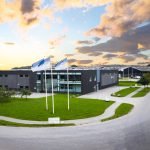 2009
Polyurethane
Construction of polyurethane factory, which means domestic production now includes both rubber and polyurethane.
The company is awarded with a Gazelle for the second consecutive year.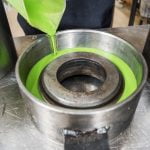 2018
PRO-PAD® System™
The first in-house developed product from Dansk Gummi Industri is being marketed. PRO-PAD® System™ is a module-based solution for transport, handling and storage of wind turbine blades, towers and nacelles.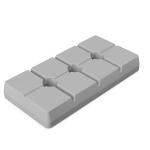 2022
Market leader
Today, Dansk Gummi Industri A/S is a top-modern company and a market-leading supplier of customized solutions in rubber and polyurethane.
The company's long history and its loyal employees ensure unique knowhow, vast experience and innovative solutions for a long line of industries. From the wind energy industry to the food industry.