Polyurethane rollers
Solid polyurethane on conveyor and rollers in all sizes and materials


Polyurethane rollers and conveyors
Polyurethane rollers are known for having great abrasion resistance, long durability and resistance towards different kinds of grease, oils and chemicals. Dansk Gummi Industri manufactures solid polyurethane coating on conveyors and rollers in all sizes and materials.
We have a in-depth knowledge of features and qualities in polyurethane and we are happy to help you with guidance, requirements specification and manufacturing of polyurethane conveyors and rollers that are customized to your exact needs.
Polyurethane coating is useful for roller conveyors in transport facilities, pull rollers for conveyor belts, feed rollers, foil rollers, feeders for fibers, glue rollers for veneer machinery, wide-band sanders and much more.
For the food industry, we also provide polyurethane reels and rollers coated with polyurethane approved by the Danish Ministry of Environment and Food.

Renovating polyurethane rollers and conveyors
At Dansk Gummi Industri, we renovate all types of rollers and conveyors.
Depending on the rollers' condition, we assess whether a new complete coating is required, or if the worn rollers can be renovated – for instance by sanding and polishing.
As an alternative to polyurethane, we also provide rubber rollers that are also manufactured according to individual needs and demands.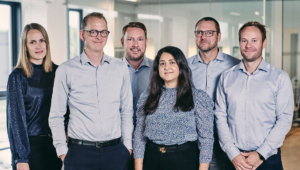 Contact us
We develop polyurethane solutions for customers all over the world. Do you need our help please let us know.